Will the Sustainability of Lion Tourist Hunting be Certain Amidst Noncompliance to Conservation Legal Frameworks?
A Case from the Selous Game Reserve, Tanzania
Keywords:
sustainability, IUCN hunting principles, hunting practitioners, trophy quality, African lion
Abstract
This paper examined the understanding and compliance with the IUCN sustainability principles among hunting practitioners of the Selous Game Reserve (SGR) for sustainable trophy hunting. Five administrative sectors of the SGR to include Ilonga, Msolwa,
Liwale, Miguruwe and Kingupira were purposively sampled for assessment between August and October 2018. It applied the theory of planned behavior (TPB) to understand predictors of compliance, and the unmatched count technique (UCT) to estimate prevalence of unsustainable hunting practices. UCT, semi-structured interviews, key informants interviews, direct field observations and Documentary review were used to collect data. Analysis of compliance was conducted using multiple logistic regression models in SAS Version 9.4 software. The findings indicated that, majority of the hunting practitioners are not familiar with IUCN hunting principles. Accordingly, nearly a half of the respondents did not comply with the principles. The predictors of compliance could be working experience (p=0.0079) and awareness with IUCN principles (p=0.0034) as they were significant in expressing positive attitude towards sustainable trophy hunting. The paper recommends; (1) much emphasis on the awareness rising and clear understanding of IUCN sustainability principles to the licensed hunting practitioners; (2) effective monitoring and evaluation of the hunting activities to reinforce compliance of sustainability principles.
Downloads
Download data is not yet available.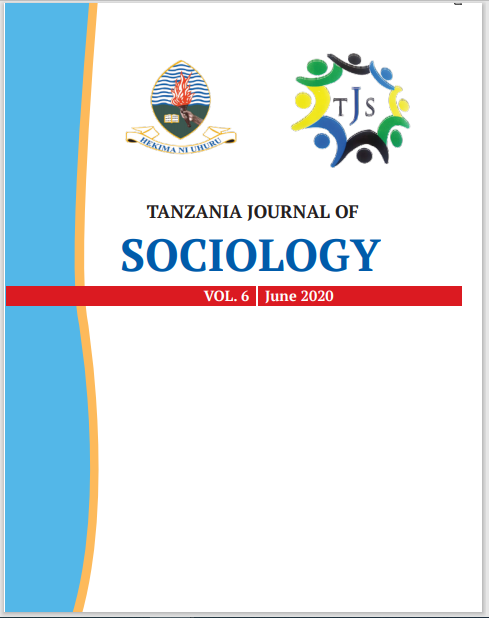 How to Cite
Gayo, L., Nahonyo, C., & Masao, C. (2020). Will the Sustainability of Lion Tourist Hunting be Certain Amidst Noncompliance to Conservation Legal Frameworks? : A Case from the Selous Game Reserve, Tanzania. Tanzania Journal of Sociology, 6, 122 - 145. https://doi.org/10.56279/tajoso.v6i.40